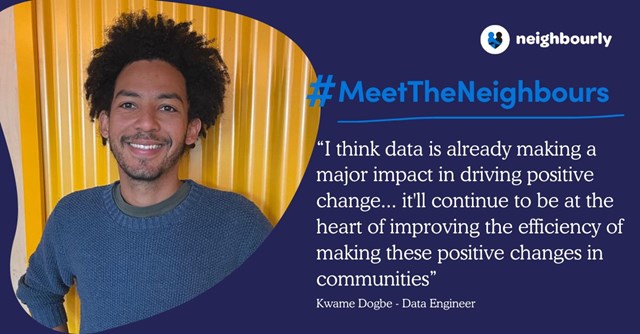 This month, in another instalment of Meet the Neighbours, we are excited to introduce you to Data Engineer Kwame Dogbe who works within our Tech team. Driven by a desire to make a positive impact in people's lives, he joined Neighbourly 9 months ago and has been a huge asset to the team.
What is your role in helping businesses support good causes in their local communities?
My main role to support the business is making sure that all of our data is in a clean, reliable and accessible state for various people across departments to leverage. Most importantly, the data I work with is required by our Data and Insights team to create the various charts and reports that demonstrate to our clients the impact they're making, including where they are making the most impact and where they could improve.
What attracted you to working at Neighbourly?
I think, like most things in life, it was serendipitous. I started my career working on fascinating data within BT's Data and Insights team, and saw the positive impact that data could have on people's everyday life. When an opportunity arose to join the team at Neighbourly I realised that I could make more of an impact as part of a smaller team working closer with local good causes, so it was an easy decision to join.
What is the most interesting data project you've worked on here at Neighbourly? Can you share any success stories or notable findings from your data analysis that helped a business maximise their impact?
The most interesting thing I'm working on is upgrading our datalake to use a feature called Unity Catalog. This effectively adds a number of new tools that will make it easier for our Data Analysts and Data Scientists to work with our data and discover new insights from it, by comparing different data sets. It also helps us to secure our data which is important for maintaining security certifications, without which we could not work with some of our clients.
From your perspective, how do you see the role of data evolving in the future when it comes to driving positive change and community support?
I think data is already making a major impact in driving positive change.
At Neighbourly in particular that includes making food distribution more efficient, matching employee volunteers with opportunities in their local area, and selecting the right good causes to allocate grants. I think it'll continue to be at the heart of improving the efficiency of making these positive changes in communities.
Outside of work, what is a good cause or community initiative that you're passionate about and why?
I really like Young Bristol which is a youth-driven charity that offers a choice of a number of opportunities and experiences for young people aged 8-24. I believe every young person deserves to have a good childhood and Young Bristol are helping to support this mission. I had the opportunity to volunteer with them a few years ago and it's great to see young people from all backgrounds having a great time and learning lots of vital life skills.
Enjoyed this? Meet more of the neighbours here:
Enjoyed this blog? Stay up to date with Neighbourly news and insights by signing up to our newsletter below.