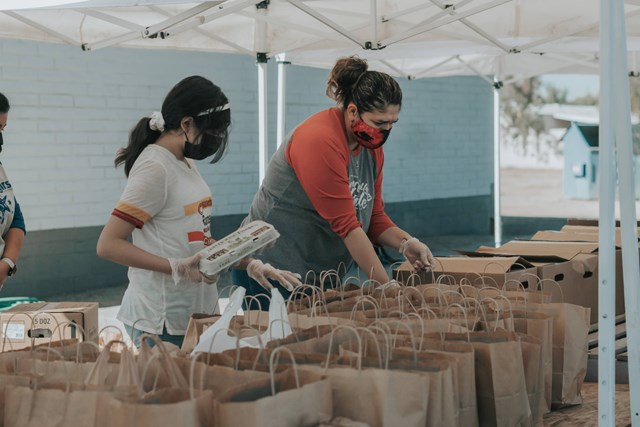 Local good causes are facing unprecedented challenges as a result of the compounding impacts of an economic crisis in the UK and global effects of the war in Ukraine.
With UK inflation at its highest since the 90s, the cost of energy and basic supplies rising out of control and the Ukraine war displacing millions, there is almost no one left untouched to some degree - with local good causes facing another sharp rise in demand as hundreds of thousands face the prospect of falling into poverty across the UK and Ireland.
The UK's Spring Budget, which presented an opportunity to introduce measures of support for those on low-incomes caused further frustration amongst anti-poverty campaigners. Dr Silvia Galandini, Domestic Poverty Lead at Oxfam told the Big Issue: "By only increasing benefits to 3.1 per cent – half the rate of inflation – [Rishi Sunak] has effectively cut benefits twice now in six months, risking an additional 400,000 people being pulled into poverty."
Others such as the Resolution Foundation predicted that, by not adequately supporting poorer families, the numbers pushed into poverty could be even higher at 1.3M as real household disposable income is forecast to fall at the fastest annual rate since 1956.
Impact on local communities
This March, over 1,300 causes completed the Neighbourly Community Survey - sharing the impact of the cost of living crisis and the war in Ukraine on their local communities and the people they support.
In the last 3 months, local good causes told us they are each supporting an average of 378 people per week. This represents an increase of 160% since March 2020 - and is expected to increase further in the coming months. To add to this, around 44% reported that they have seen a drop in charity income in the past 3 months.
"The rising cost of fuel to a rurally situated charity is painful"
As a result of growing concerns, 82% said they would welcome an emergency grant to help them deal with a rise in fuel, food and living costs and the impact of the war in Ukraine.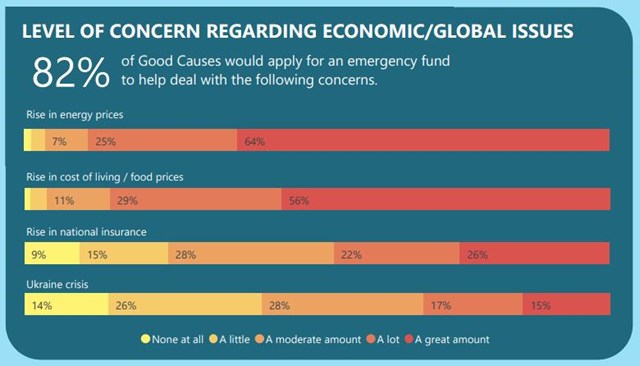 The rise in energy prices was cited as the greatest concern, with one small charity telling us: "The rising cost of fuel to a rurally situated charity is painful. We agreed a charity staff pay rise for the new financial year – but it has been swallowed up with the rise in heating, fuel and basic staples."
Capacity for growth
The impact of this growing crisis is already taking its toll. Since we last surveyed our good causes in the wake of the last set of Covid-19 restrictions, their sentiment score for their current situation has dropped further - representing decreased optimism for their organisation and the people they support.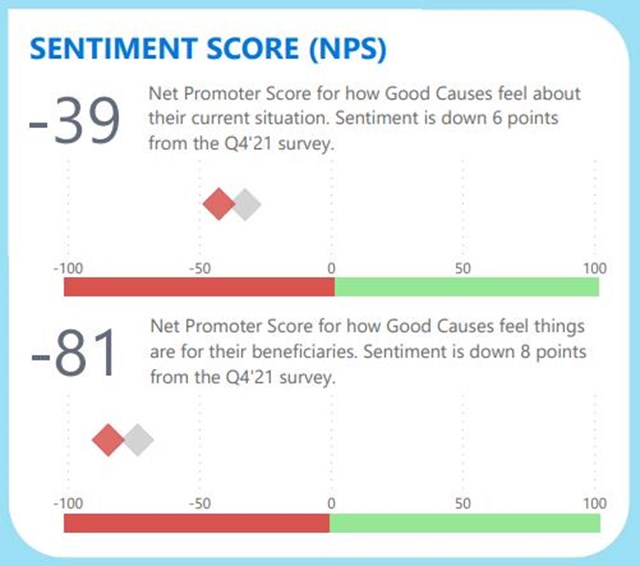 Despite this, local good causes remain resilient in the face of adversity and are still working hard to overcome challenges, many with capacity to receive further support across financial donations, surplus food and products, and volunteer help from businesses.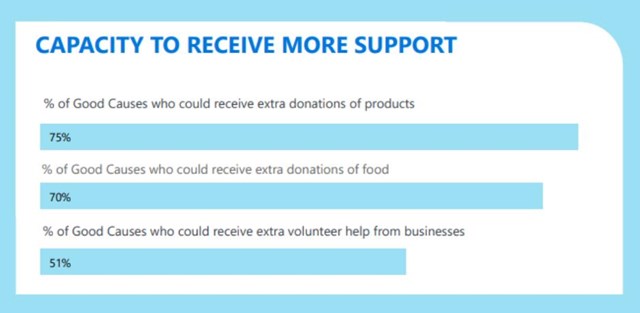 A future for all
Whilst the cost of living crisis continues to push people into poverty, and the war in Ukraine creates displacement for millions now seeking refuge across Europe, we need to be able to keep our local community causes not just afloat but thriving so that they are able to respond.
Local good causes have consistently demonstrated their ability to stand in where welfare leaves people stranded - but many local services are being stretched to breaking point.
In one of the wealthiest countries on Earth it seems inconceivable that so many households are needing to choose between heating or eating, small charities are needing to provide emergency aid and there remain no clear government policies for eradicating poverty.
In response, Neighbourly's Emergency Fund is welcoming business donations which can be facilitated via the Neighbourly Foundation to support good causes and help tackle the impact of the cost of living crisis and humanitarian crisis.
Our Emergency Fund will look to help plug the gap for these charitable organisations, so they can fulfil their role of strengthening and supporting local communities. More details about our Emergency Fund can be found by clicking the 'Learn more' button below.