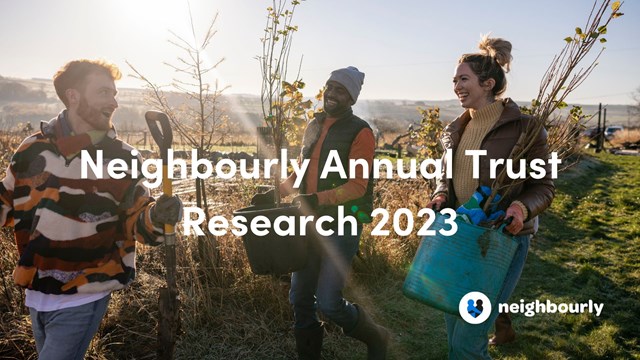 As a platform that connects businesses with small charities and community causes, Neighbourly has long understood the value of giving at a local level in developing trust between stakeholders, a notion that has been accelerated during the cost-of-living crisis.
To accurately quantify the relationship between trust in businesses and charitability, for the fourth consecutive year Neighbourly has commissioned a YouGov research survey of 2,100 UK adults on the topic.
This coincides with the Edelman Trust Barometer, a global report which acts as an annual gauge of the international population's trust in business organisations, governments, and the media. This year's findings name business as the only institution seen as competent and ethical; an indication that employers have a big role to play in moving society forward economically, environmentally and socially.
Businesses will continue to feel the demand from boards, employees and customers to drive and embed change. Indeed, the report found that among employees, 69% said that having societal impact is a strong expectation or even a deal maker/breaker when considering a new job role.
The Neighbourly YouGov survey suggests that operating in a meaningful way carries a strong business case and financial return, with 65% of people in the UK more likely to trust a business that contributes to the community where they live and/or work, and 87% more likely, in turn, to support or buy from a company they trust.
It seems the public are wise to this movement, with trust in small, local charities (76%) being considerably higher than national (59%) and international charities (40%). The research also found that 63% are more likely to trust a business that supports small local charities.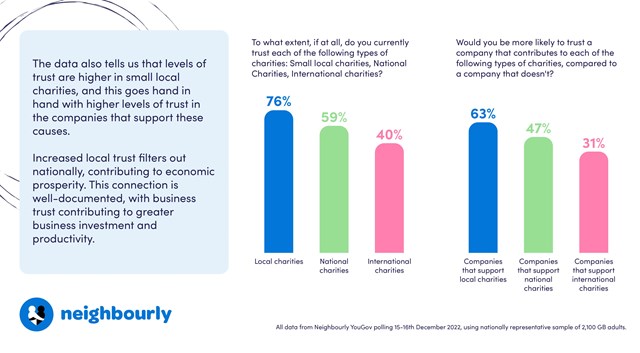 The emphasis on supporting local organisations, charities and community groups has likely been bolstered by economic events over the last few years, strengthening bonds within neighbourhoods, and resulting in an expectation that businesses and employers provide social value alongside traditional economic value.
Aside from the unequivocal societal value of businesses supporting local good causes, there is mounting evidence that a deliberately mapped out trust strategy will contribute to higher brand trust and customer support.
As businesses find ways to embed social value deeply into their business strategy and place trust front and centre, the greater the benefits for all.