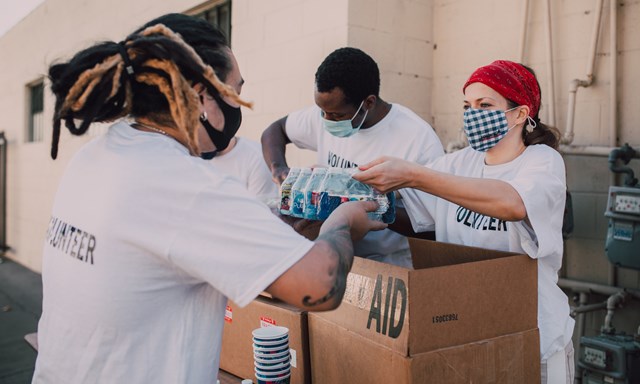 If businesses want their financial donations to charities to have the desired effect for the local communities they seek to support, as well as delivering on their ESG strategy, understanding the local multiplier effect is critical.
In research published in 2003, Ward and Sacks visualised a local economy as a leaky bucket with lots of holes. These holes are typically caused by a lack of investment, infrastructure and jobs, which only get bigger as necessary improvements to improve the local economy are not made. As employment depletes and services deteriorate, more people leave, leading to a downward spiral of decline.
This is a tale familiar to many areas that have fallen into deprivation over the years and the subject of the Government's recent Levelling Up white paper published in February 2022. But the same principle flipped on its head also demonstrates how a local community can prosper by endeavouring to keep resources within that area.
For instance, if you spend £10 with the local greengrocer, they might put £7 in the till and spend £3 on lunch in a local cafe. The cafe owner might put £2 in the till and purchase a pint of milk from the local corner shop on the way home. While a simple representation, it shows how value can stay in the local community.
You might think you have only spent money with the greengrocer, but it has benefited the cafe owner and the family who runs the corner shop, thereby enabling all of them to continue offering their services to the community. By retaining and circulating money within our communities, we can help build prosperous, thriving economies across the country with more employment, better infrastructure and improved opportunities.
Recirculating prosperity
The local multiplier creates impact in three ways. Direct impact is spending done by a business in the local economy to operate the company, such as inventory, utilities, equipment and employee salaries. Indirect impact happens as the money local businesses spend in other local businesses recirculates. Induced impact refers to the additional consumer spending that happens as employees, business owners and others spend their income in the local economy.
The same is true for the benefit of donating to local charities with every pound donated to a local good cause potentially washing around that community multiple times before it bounces back out again. Local good causes are at the coalface of community action, made up almost entirely of workers or volunteers directly involved in frontline services. Rising social consciousness is making employees and customers increasingly adept at spotting attempts at CSR box-ticking or 'purpose washing', so it's crucial that businesses are ensuring their donations are making the impacts they're intended to make.
Localisation is critical for the future existence of all businesses. If they don't look after the local community around them and the health and prosperity of the environment in which their customers and employees reside, their business will be negatively impacted. Healthy local communities ultimately enable everything else to function successfully in society.
Download our full report 'Corporate Donations: The Power of Local' for more on the business benefits of financial donations to local good causes.