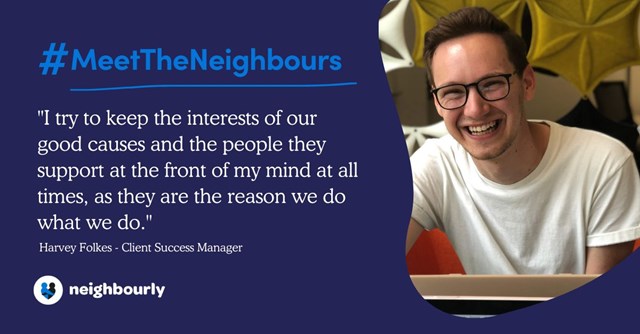 For this month's edition of Meet the Neighbours, we're pleased to introduce Harvey - one of our Client Success Managers who specialises in helping mid-sized businesses to make the most of their employee volunteering and fund distribution programmes though the Neighbourly platform.
As a passionate community advocate, Harvey comes from a background of engaging directly with community groups and causes. As part of his Masters degree he took part in a community engagement placement with Bristol City Council and initially joined Neighbourly as a Community Manager where he put his skills to good use, supporting Neighbourly's good cause network and clients with surplus redistribution projects.
"My favourite part of this role is developing programmes that can benefit our good causes."
What drew you to the role of Client Success Manager at Neighbourly, and what do you enjoy most about it?
After almost two years of working in our Surplus Team, I moved to become a Client Success Manager for our mid-tier clients. I've always enjoyed working on new projects and programmes, and wanted to gain more experience of our volunteering and grant management solutions. My favourite part of this role is developing close relationships with my clients, and being able to work collaboratively with them and our teams to create programmes that can benefit our good causes.
As one of the first to be supporting clients in using Neighbourly's exciting new platform features, what excites you most about the impact it can create in local communities?
Having previously worked with larger enterprise clients, it's really exciting to see the impact that mid-sized businesses can create in their local communities. The new features are enabling more local businesses and their employees to access our programmes and provide support in many different ways to the communities they live and work in, and it's so encouraging to see them getting stuck in and making a difference.
Are there any upcoming giving campaigns on the horizon that you're particularly looking forward to seeing through to fruition?
Redcliffe & Temple Business Improvement District's (BID's) volunteering campaign is especially exciting, as it enables employees of the BID's 200+ business members to engage with volunteering opportunities through the Neighbourly platform.
"I am very excited to see the possibility of us bringing more businesses into contact with their local communities"
This is a new partnership for us, and I'm excited to see the possibility of us bringing more businesses into contact with their local communities. It presents a great opportunity to build relationships both amongst the communities and the businesses within the BID to link closer together to work towards a common goal of helping those in need.
What advice would you give to other account managers or professionals who aspire to make a positive impact through their work?
My advice would be to keep the core of what you want to achieve at the heart of everything you are doing. I try to keep the interests of our good causes and the people they support at the front of my mind at all times, as they are the reason we do what we do.
If we can all work collaboratively to make a difference in our local communities and really hear what good causes need rather than being prescriptive, then that is the best first step.
Outside of work, what is a good cause or community initiative that you're passionate about and why?
As a previous service user of theirs, I am always excited to check in with what Off The Record Bristol (OTR) are doing. Their schemes have really helped me in the past, and I have had the pleasure of speaking at one of their youth groups, Freedom Youth.
The mental health of young LGBTQIA+ people is something that is very close to my heart, and I cannot praise OTR enough.
Enjoyed this? Meet more of the neighbours here: