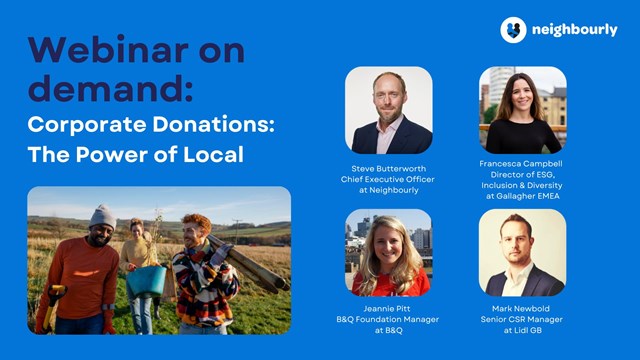 This summer our CEO, Steve Butterworth, hosted a panel discussion with representatives from B&Q, Lidl and Gallagher looking at the 'power of local' and how these leading brands maximise their environmental and social impact by donating to local charities.
By connecting corporate partners with a network of over 20,000 vetted local causes, Neighbourly helps businesses to activate social purpose at a local level on a national scale.
But why is this important? And what difference does it make when businesses support smaller charities and local good causes? Here are some key takeaways from the panel discussion:
Supporting local causes increases employee engagement
Stores are located within the heart of communities which presents a unique opportunity to create impact in areas that are meaningful to employees themselves.
Employee-led nomination schemes engage employees with corporate donation programmes whilst enabling businesses to deliver funds to those most in need.
Local good causes understand the needs of local people
Local good causes and small charities are embedded in their communities, with a deep understanding of the needs of local people. This has become increasingly evident since the start of the pandemic as smaller organisations work on the frontline to support those most in need.
Supporting local causes enables businesses to tangibly help and connect with their local areas.. There is also evidence to suggest that supporting local good causes creates more impact through the 'local multiplier effect' which builds prosperous and thriving local economies by retaining and circulating money within communities.
Corporate giving programmes should be aligned with your businesses purpose
Implementing a corporate giving programme that aligns with business values and purpose helps to strengthen the message behind the scheme, whilst delivering ESG impact.
It is important to be really clear on what you want to achieve through corporate funding by focusing on a strategic objective linked to where help is needed in the community. The B&Q Foundation, for example, has created a giving campaign that improves community spaces and places. As a home improvement and DIY retailer, this programme makes sense for their business and keeps the focus on an area that is aligned.
Smaller grants can make a big difference to local good causes
Cash grants of varying amounts can make a huge difference to local good causes, perhaps more so than larger national charities, as they can channel funds to support beneficiaries at a much quicker rate. In this way corporate donations can have a big impact across a wide variety of impact areas and multiple causes.
"Sometimes people associate financial support with big chunky numbers [but] … we ran a very interesting programme during covid … [providing micro-grants of a few hundred pounds to keep the lights on … those low thousands or even hundreds can make a big difference and enables you to spread the love a bit further as well"

- Steve Butterworth, Neighbourly CEO
In the context of the current cost of living crisis, providing financial support alongside volunteering programmes can make a big difference, helping to cover a charity's overheads and volunteering costs.